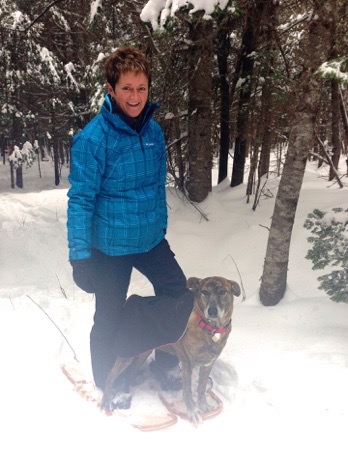 Mango Spaw is owned and operated by Beth Hatfield.
Beth has been involved in dogs throughout her adult life, primarily as a breeder of purebred CKC registered Labrador Retrievers under the Naiad prefix, and providing decades of ongoing support and consultation.  She has had the opportunity to experience extensive canine group dynamics and behaviour in a shelter environment in the Bahamas and assisted in education, training, behavioural consultations, field spay and neuter clinics.
Beth is a member is the Canadian Kennel Club, New Brunswick Kennel Club, Labrador Retriever Club of Canada, and President of the Atlantic Labrador Retriever Club.
WHO is Mango?
Mango is the name of our inspiration for this venture. She is a rescue dog, a "Potcake",
http://www.hs-gb.org/index-Dateien/potcake.htm
from the Bahamas and came from a lowly beginning, living on the streets of Freeport on Grand Bahama Island. She found her way to the shelter as a puppy after being live trapped by shelter staff while foraging for food.  She and Beth met and somehow, through the hundreds of little faces looking for attention, they found each other.  The rest, as they say, is history.
Mango has moved to Canada and is taking this country by storm!  She has a new group of friends in her big BEAR Bernese that kept her warm that first Winter as she had NEVER seen snow or cold like this....even in the house.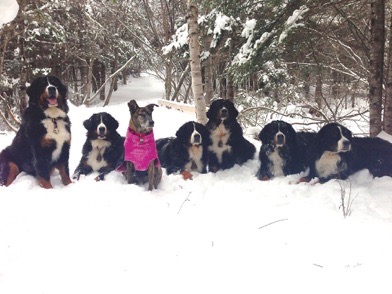 Anyone who knows Mango knows how special she is.  It seems only natural to centre our theme around her.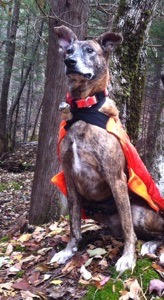 She does epitomize our philosophy, our mantra which is -
                      stay . play . relax
because any proper Bahamian excels at playing and relaxing!